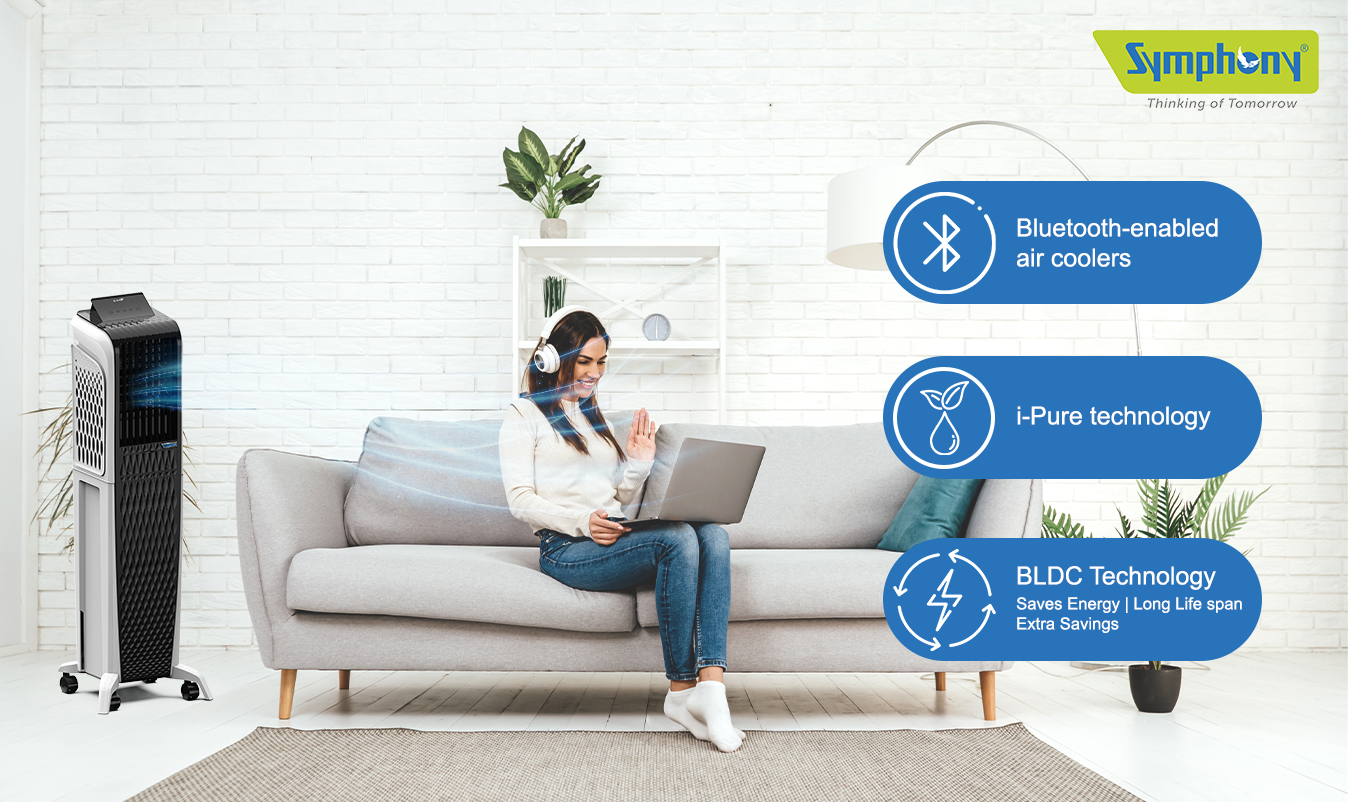 The Latest Innovations in Air Cooling Technology: What to Look for When You Buy an Air Cooler
Air coolers are perhaps the most convenient way to keep your home or office cool during the scorching summers. With the latest innovations in air cooling technology, it's now easier than ever to find the best air cooler in India for your needs. When looking for a new air cooler, there are several features you should consider such as size, noise level, fan speed, and energy efficiency. By keeping these factors in mind when shopping for an air cooler, you can ensure that you get the best product for your needs. 
Symphony air coolers have become increasingly popular due to their superior performance and energy efficiency. Understanding the requirements of the consumers, and the steadily changing climate, the research and development team at Symphony has top air-cooling tech experts in order to innovate eco-friendly air-cooling solutions. This is why Symphony's range of air coolers delivers the ultimate cooling solutions for all your spaces. Let's tell you what you should look for when you want to buy air cooler online. 
Smart, sleek Bluetooth-enabled air coolers
With the changing times, technology has indeed taken convenience to the next level. You can very well understand that better when you visit the Symphony website and check out the premium, smart range of coolers, the hero being the very popular Diet 3D 55i+ Air Cooler 55-litres with Full Function Remote and high electricity cost savings.
The tower design of this cooler, with the oscillating louvers, makes sure it delivers air for body-level comfort. The sleek design perfectly fits into any place making it ideal for compact spaces. The touch panel technology gives you smooth control and finger touch technology.
i-Pure technology with multistage air purification filters
Powered by i-Pure technology, Symphony Diet Air Coolers come equipped with multistage air purification filters like bacteria filter, dust filter, allergy filter, smell filter, and PM 2.5 wash filter that delivers pure and fresh air throughout.
Brushless Direct Current Motor Technology (BLDC)
Symphony is the first brand in the world to launch the BLDC range of air coolers. Like the sought-after Diet 3D 55B BLDC Tower Air Cooler 55-litres with Magnetic Remote that has a powerful air throw. It delivers end-to-end circulation without leaving any corner untouched, whether it's a bedroom, kitchen, or any other small room. The heart of Symphony BDLC coolers is the powerful pump that's been developed to deliver smooth and top-class performance for many years. With these coolers, you can now bid goodbye to higher maintenance costs and pumping issues.
So, keeping the above features and functionalities in mind, you now know which is the best cooler for your space. So go ahead and buy air cooler online, at the best prices, only from Symphony.