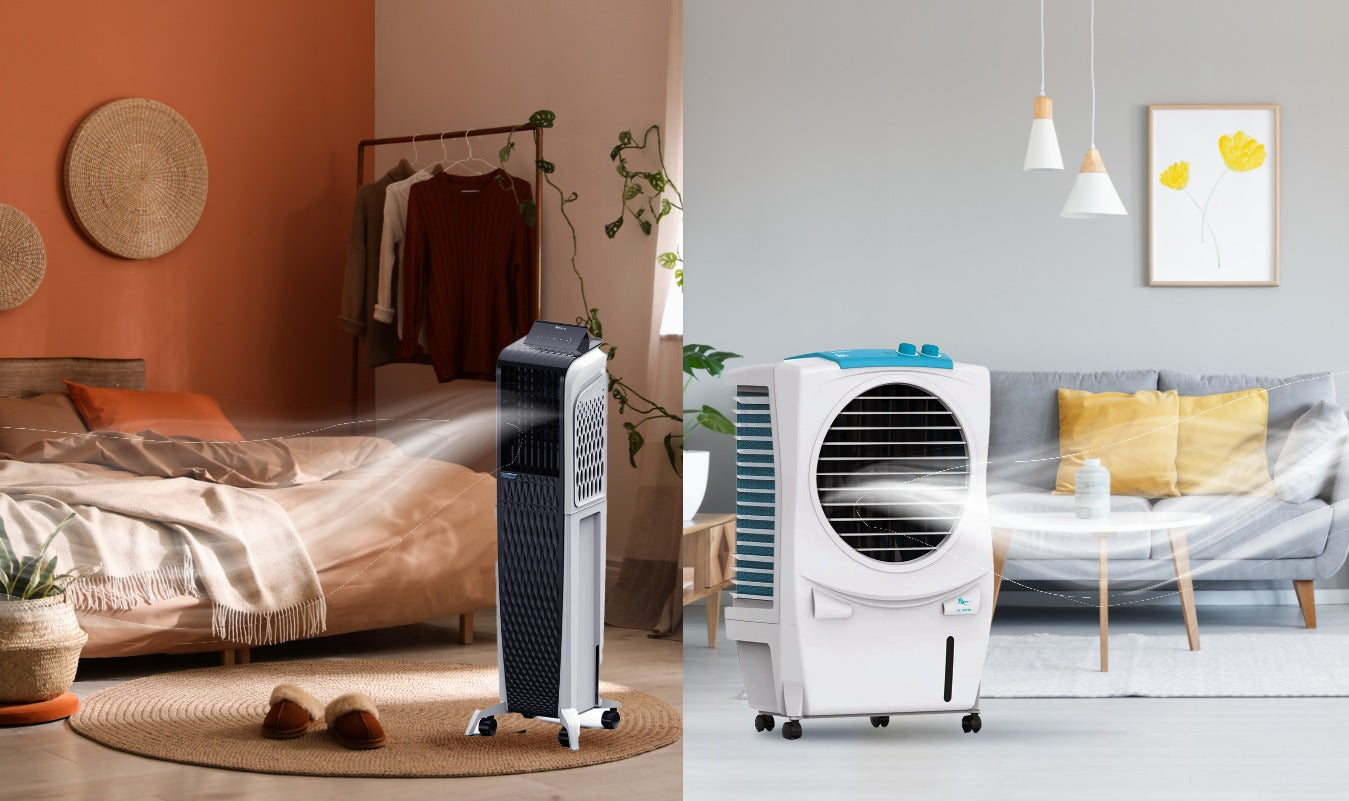 Symphony Tower Cooler vs. Personal Cooler: Which Is Right for Your Space?
Tower cooler or personal cooler? Wondering what's ideal for saving your space, and making the most out of it? Let's take a guess, you already have a fair idea of how an air cooler works and if you have visited our site, chances are you want to extract every detail that would help you to make the right decision while buying. That's why we are here to solve your doubts and show you the bigger picture. Scroll down!
What differentiates Tower Cooler vs Personal Cooler
Tower coolers are known to be Sleek, Compact and Stylish, and offer world-class comfort! Undoubtedly, true to its name, it throws air from a towering height while ensuring an unparalleled cooling effect. The oscillating louvers impart air flow to body-level comfort, while the sleek and slim design fits perfectly into any compact space. All are tower Coolers are Inverter Compatible as well.
Personal coolers, on the other hand, are effective for Small to medium area and cooling spaces. They are compatible with inverters and are suitable for indoor use. These Personal Coolers are equipped with efficient features like auto louver movement and high-efficiency Dura-Pump with Honeycomb cooling pads. Thanks to their optimal cooling effect, they cool the surrounding area and hence you can feel the refreshing air no matter where you sit.
What are its standout offerings?
Tower coolers come in aesthetically appealing designs which add to the charm of the home. Moreover, it comes attached with a new generation honeycomb and aspen cooling pad that gives the same cooling effect for many years. The built-in mechanism of the device provides whisper-quite performance to keep the noise levels and disturbance low during your sleeping hours. Also, its remarkable feature is i-Pure Technology which wards off contaminants, pollutants, bacteria, and allergens from entering your home. Trust us, it works wonders from all spheres.
Personal Coolers release a powerful air throw to maintain a pleasant environment, and have a 3-level speed control panel, allowing you to adjust the cooling as per your preference. Also, its multidirectional castors provide easy mobility, allowing you to move it anywhere in your house. 
What more can you expect?
Symphony Tower coolers such as the HiCool i-Smart Bluetooth Air Cooler & the Diet 3D 55i+ Smart Bluetooth Air Cooler are power-packed with smart features like Bluetooth connectivity that help you operate the cooler from your Android smartphone. Also, the best-in-class automatic touch screen control makes your life easy and full of convenience as it lets you be in control of its functions.
Symphony Features a big personal cooler range which can be remote controlled as well, with state-of-the-art smart features like a Pop-Up Touch Screen. Symphony's personal Coolers are a reliable choice for keeping you cool and fresh. 
Further Symphony's cooler range listed on the Symphony website features the Diet 8T Personal Tower Air Cooler (8L), Harvy 10T, Ice Cube 70, Diet 3D 12T.  All these models are energy-efficient coolers ideal for residential rooms and spaces, kitchen, or an office, and have been specially built for maximum air circulation along the room surface area. The cooler's honeycomb design, coupled with a re-engineered fiber structure, provides the ultimate cooling effect and makes sure you feel the refreshing air no matter where the electric socket is.
What makes Symphony the best cooler in India?
Committed to conscious cooling, Symphony coolers has set a benchmark for over 80 years, by cooling homes in more than 60 countries across the globe. 
By using proven technology to create intelligent, environment-friendly devices that maximize energy efficiency, while ensuring a superior cooling effect, now it's recognized as India's most trusted cooler brand.