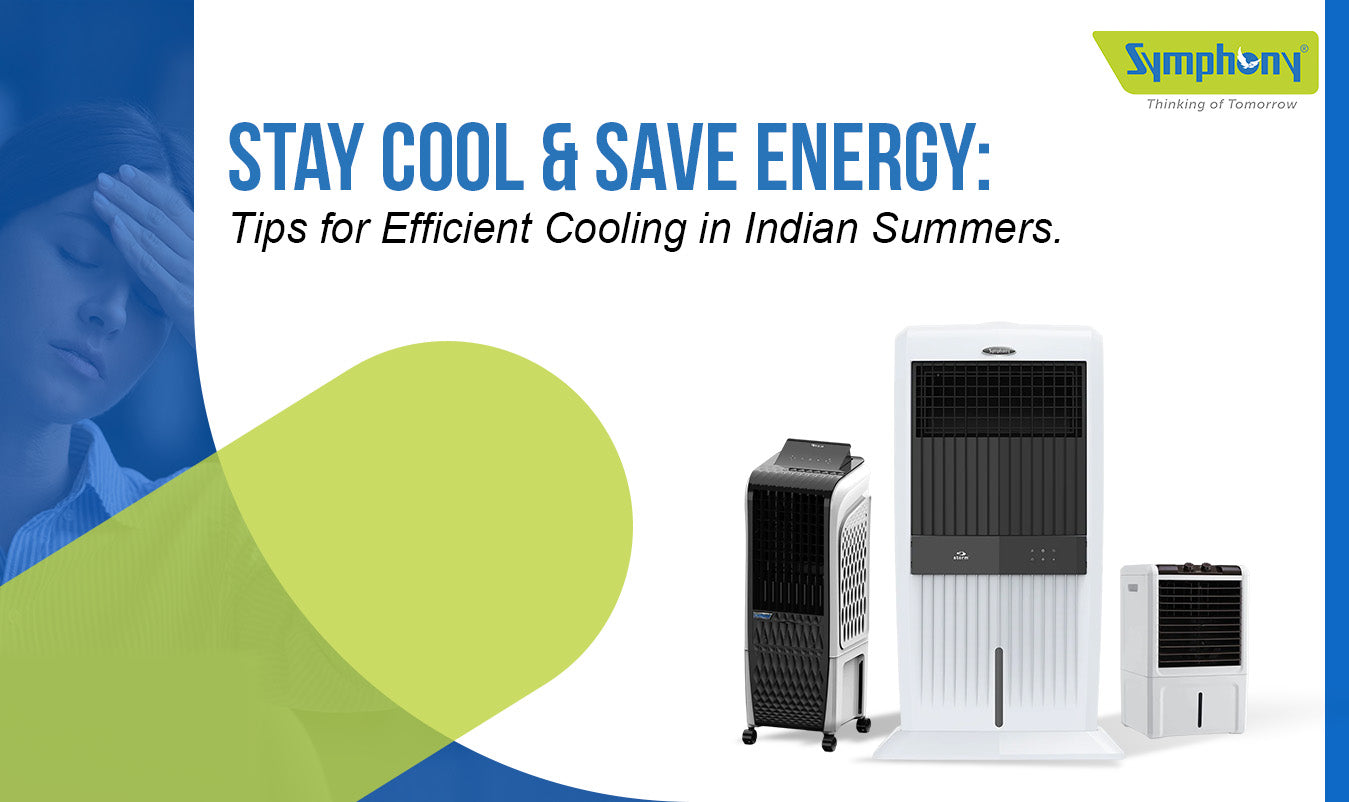 Stay Cool & Save Energy: Tips for Efficient Cooling in Indian Summers
Indian summers can get excessively hot, but there are ways to stay cool without breaking the bank on energy bills. Efficient cooling products like the Symphony Coolers can keep you comfortable while saving on electricity. Here's how these coolers can help you stay cool in Indian summers.
Symphony Storm 70i - The Symphony Storm 70i is a Desert Tower Air Cooler designed for larger rooms. It has a 70-litre capacity and only consumes 280 watts of energy. This cooler offers superior cooling through its 3-side high-efficiency honeycomb cooling pads and clean air with its i-pure technology. In terms of the air cooler price, it offers excellent value and is considered one of the best air coolers in India.
Qute 8 - Next, we have the Qute 8, a Powerful Personal Table Air Cooler that is perfect for small rooms or individual use. With its 8-litre capacity and low energy consumption of just 90 watts, this cooler is ideal for workspaces or study rooms. Its efficient honeycomb cooling pads and 21 ft. air throw ensure effective cooling, offering a cool haven in your personal space.
Qute 12 - For a versatile cooling solution, look no further than the Qute 12, a Powerful Personal Table Air Cooler with a USB port. This Symphony cooler efficiently cools small rooms with a 21 ft. air throw and a 12-litre water tank, while consuming only 100 watts. Portable and user-friendly, this best cooler in India offers reliable cooling even during power cuts, making it an attractive option for those seeking to buy air coolers online.
Diet 3D 20i - For those with large rooms looking to buy an air cooler that is energy efficient, the Diet 3D 20i is a fantastic choice. This Tower Air Cooler comes with a 20-litre capacity and uses just 145 watts of energy. The 3-side high-efficiency honeycomb cooling pads and clean air produced by its i-pure technology make it stand out among the best coolers in India.
Diet 35T - Another energy-efficient solution from Symphony, the best cooler brand in India, is the Diet 35T. It's a sleek and powerful personal tower air cooler with a 35-litre capacity, consuming only 165 watts. This cooler is perfect for medium-sized rooms and is easy to move around, providing a cool refuge wherever needed.
In conclusion, beating the summer heat while keeping energy consumption minimal is no longer an impossible task. With Symphony Coolers, you have an array of options to choose from, each delivering the cool comfort of a breeze while saving energy. These coolers are not just efficient, but also affordable, transforming the concept of room cooler price and offering superior quality at the same time. Choose Symphony, and make Indian summers a cool breeze!