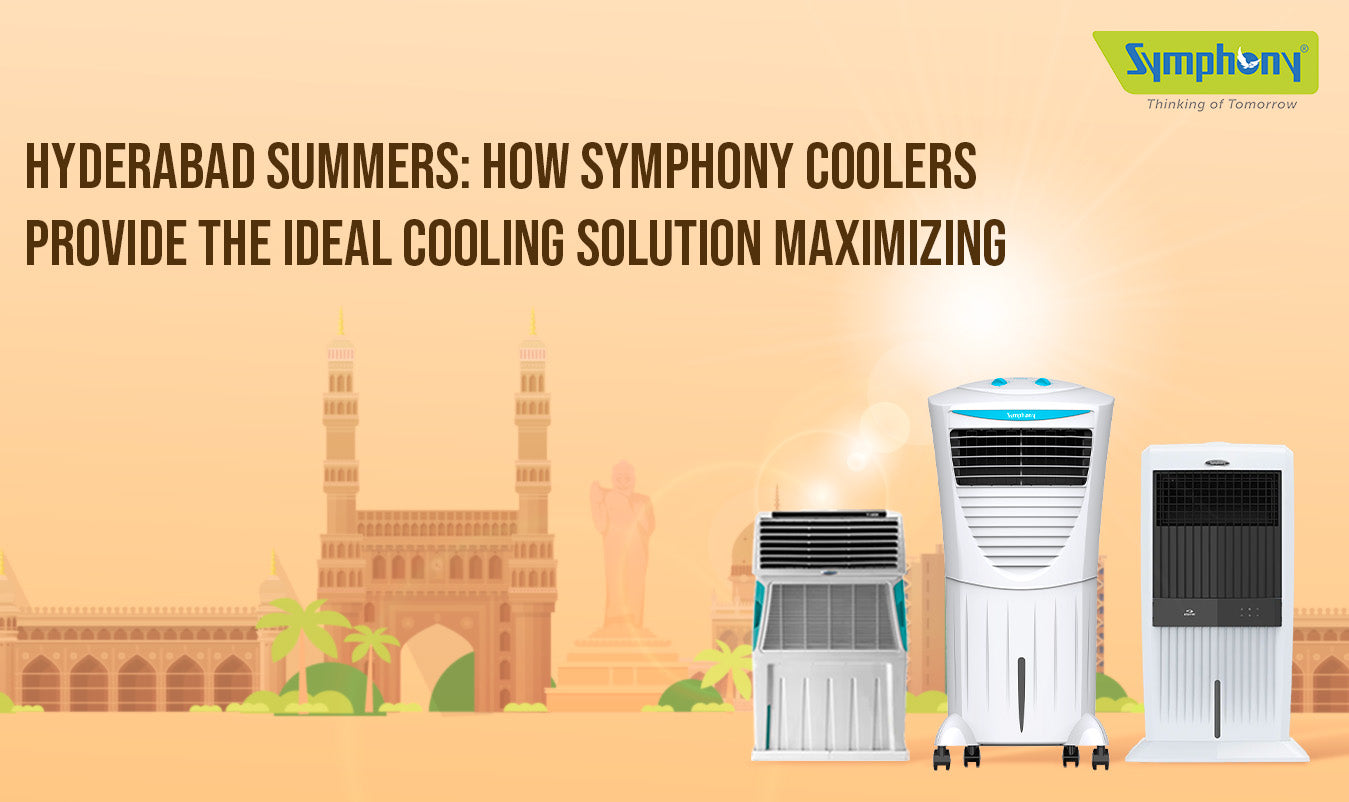 Hyderabad Summers: How Symphony Coolers Provide the Ideal Cooling Solution
When summer strikes and temperatures rise in the beautiful city of Hyderabad, everyone starts looking for ways to escape the heat. It's a challenge, but the people of Hyderabad are always ready to take it on. Among the many solutions they turn to, Symphony Coolers stand out. They are the quiet champions and bringing cool.
Symphony Coolers are not just products, but a promise of uninterrupted, superior cooling. They represent a commitment to enhance your comfort while being mindful of energy consumption. With their state-of-the-art technology and modern design, these coolers have redefined the concept of cooling in India.
Diet 3D 30i - Tower Air Cooler

: This innovative

air cooler

comes with a pop-up touchscreen and is an ideal choice for small rooms. The 30L water tank, along with a powerful 28ft air throw, ensures an effective cooling experience. Consuming only 145 watts, this

Symphony air cooler

perfectly embodies the brand's dedication to energy efficiency.
Touch 35 - Personal Air Cooler:

Equipped with a digital touchscreen with voice assist, this cooler is designed for medium-sized rooms. With its high-efficiency Aspen cooling pads and a 35L water tank, the Touch 35 promises unparalleled cooling. Consuming a mere 185 watts, it stands as a testament to Symphony's commitment to energy-saving solutions.
HiCool i - Modern Personal Air Cooler:

With its high-efficiency honeycomb cooling pads and a fully functional remote control, the HiCool i ensures clean and cool air in your home. Suitable for medium rooms, this cooler has a 31L water tank capacity and a 37ft air throw. Just like the other Symphony coolers, it consumes only 185 watts, underlining the brand's focus on energy efficiency.
Storm 70i - Desert Tower Air Cooler:

This cooler is a game-changer in the realm of

desert coolers.

With an LCD control panel, a 70L water tank, and a powerful 65ft air throw, the Storm 70i is ideal for large rooms. Despite its potent cooling capabilities, it maintains an energy consumption of only 280 watts.
What sets Symphony Coolers apart is their promise of lifetime customer support, auto-warranty registration, and the assurance of authentic products directly from the brand. Symphony even provides the lowest price guarantee on their website exclusive products, making them the ideal choice for those seeking to buy air coolers online.
So, when Hyderabad's summer heat flares up, count on Symphony, the
best cooler brand in India
, to deliver a soothing breeze of cool air. With Symphony, transform your home into a haven of comfort. Beat the Hyderabad heat with Symphony Coolers!