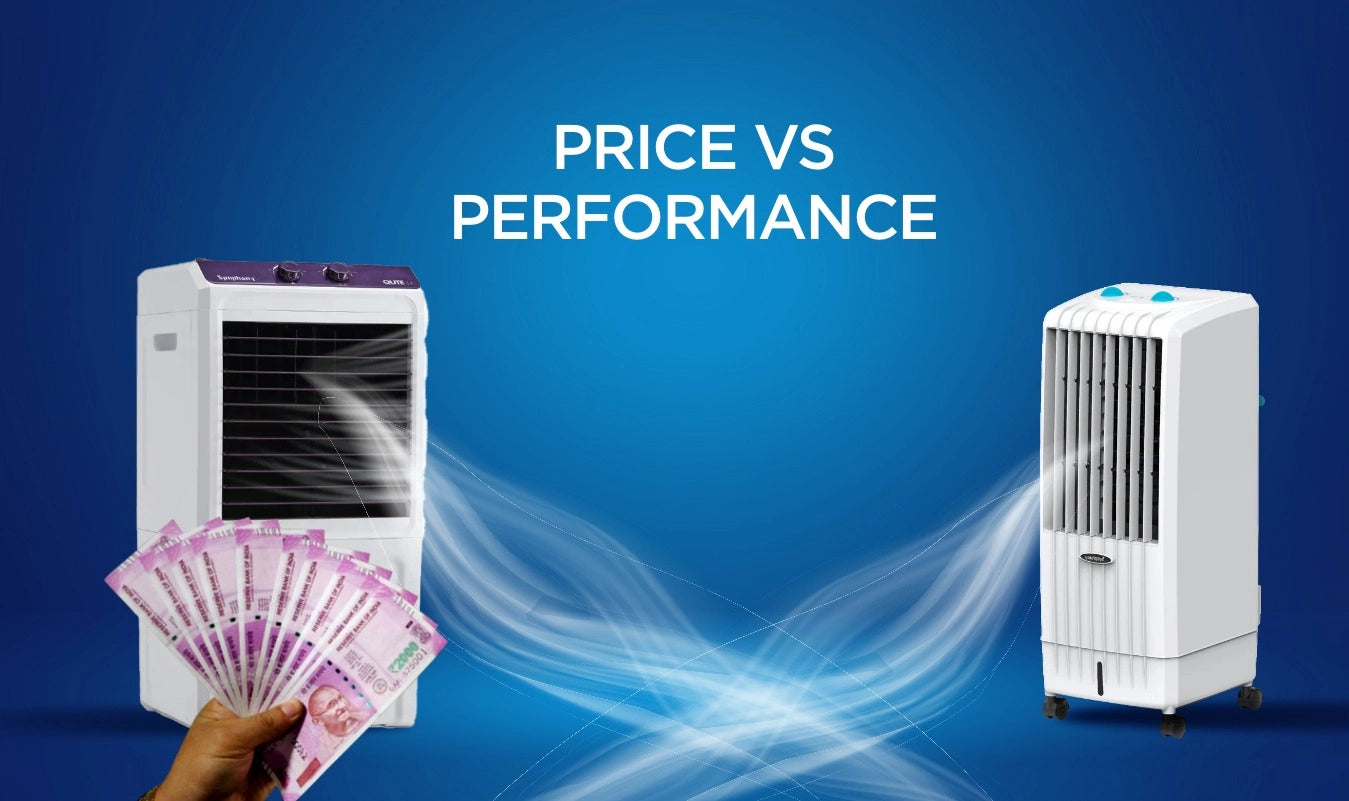 How to Choose the Best Air Cooler for Your Budget: PRICE VS. PERFORMANCE
With summer approaching, the demand for air coolers also rises. With an abundance of options available in the market, it becomes even more overwhelming to make the right decision. More so, when you're looking for one which doesn't hurt the pocket, yet operates seamlessly. What if we tell you that you can receive all that and more with Symphony coolers that come with a perfect blend of affordability, utility, and durability? Take a look!
SPOT COOLERS
Spot coolers provide a flexible and convenient solution for targeted cooling needs, which helps users to keep specific areas comfortable and productive even in hot and humid conditions.
Price Breakdown- Even though the prices vary during the sale season, still the starting range can be from 5,499 up to 6,999 depending on the models.
Performance Highlight - Spot coolers are designed to cool only the area where they are needed, which can result in significant energy savings. It's built for areas covering 10 m² (110 Sqft) and you can also make use of it as a fan and table-top cooler. Another plus point is the power consumption factor which is as low as 90 watts. Despite the small water tank capacity, it can provide cooling for long hours.
PERSONAL COOLERS
Needless to say, personal coolers are conveniently built to make the best use of space without compromising on cooling. Ideal for small to mid-size rooms, particularly bedroom, kitchen, and office space.
Price Breakdown – Personal air cooler prices can range from 3,999 upto 9,999, wherein you can get the best deals during any festive season.
Performance Highlight – Designed to be solid and sturdy, personal coolers come attached with dust filters that effectively maintain clean air indoors while you enjoy cool air for an extended period of time. The ergonomically designed blowers ensure optimal air throw and the energy-efficient device consumes very low power, that's something you should not miss out on.
TOWER COOLERS
The space-saving and vertical design of the tower cooler makes it the most sought-after cooler. It evenly distributes air in the room, and is suitable for medium to large size rooms.
Price Breakdown – The best-selling price range of tower coolers is from 6,999 and upto 16,649, which differs from time to time.
Performance Highlight – What makes them stand out is that the smart Bluetooth feature of the cooler, allows you to operate the air cooler from your Android smartphone. Sounds cool, isn't it? Apart from that, it's powered by i-Pure Technology that acts as a shield against any pollutants, bacteria, allergens, and foul smell, making your home atmosphere hygienic and breathable.
DESERT COOLERS
Experience superior and uniform cooling with best-in-class air throw with desert coolers. They are a cost-effective and energy-efficient option and best complements large and spacious rooms.
Price Breakdown – The base price of these coolers is 6,799 and can go upto 49,990, depending upon the model.
Performance Highlight – The power-packed coolers are specially designed to give you a massive cooling effect, all thanks to their large water tank capacity and new-generation cooling pads, that bounds to stay for years to come. Although, with heavy usage during peak seasons like summers and monsoons, it consumes very low power, which is a win-win.
SMART COOLERS
Engineered with advanced technology, the smart coolers by Symphony are a modern masterpiece. The cooler is built in such a way that the outside hot air transforms into cool air really quickly, resulting in 3D cooling.
Price Breakdown – Prices can fluctuate depending on deals, discounts, and festive offerings, but generally it starts from 8291 and can go upto 16,649.
Performance Highlight – Smart coolers have a smart sensing mechanism that makes your life hassle-free to a great extent. With an automatic pop-up touchscreen, you can easily navigate the functions with ease, whereas Bluetooth pairing lets you be in control of its operation from your Android smartphone. 
So, there you have it, the required information on the price and performance, which will help you to find the best budget cooler for your home.